Hi Beauty Queens!
Today I am going to share with you my skincare routine, basically what I apply after I cleanse my face in the morning and at night. I will also do a small review for each one.
A little background on my skin type: I have dry to normal sensitive skin, prone to rashes/red blotchy skin especially around the cheeks area. I am really sceptical in using products in fear that they might cause some allergic reaction on my skin so I stay away from any harsh chemicals.
For face: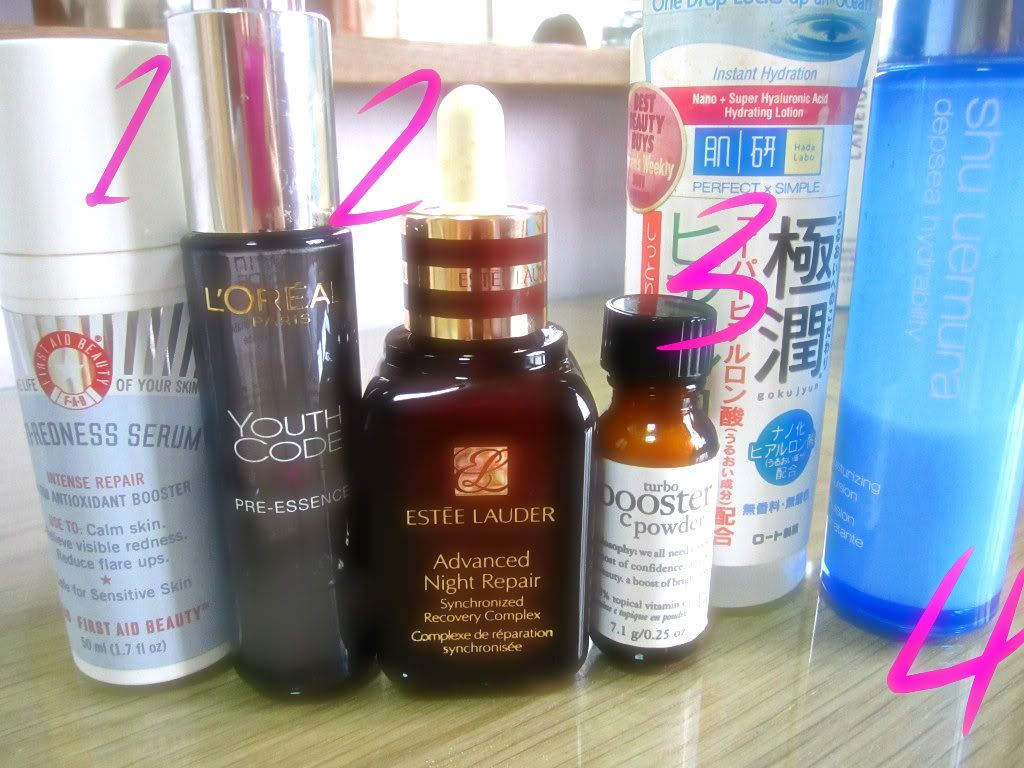 FAB Anti-Redness Serum (54 SGD)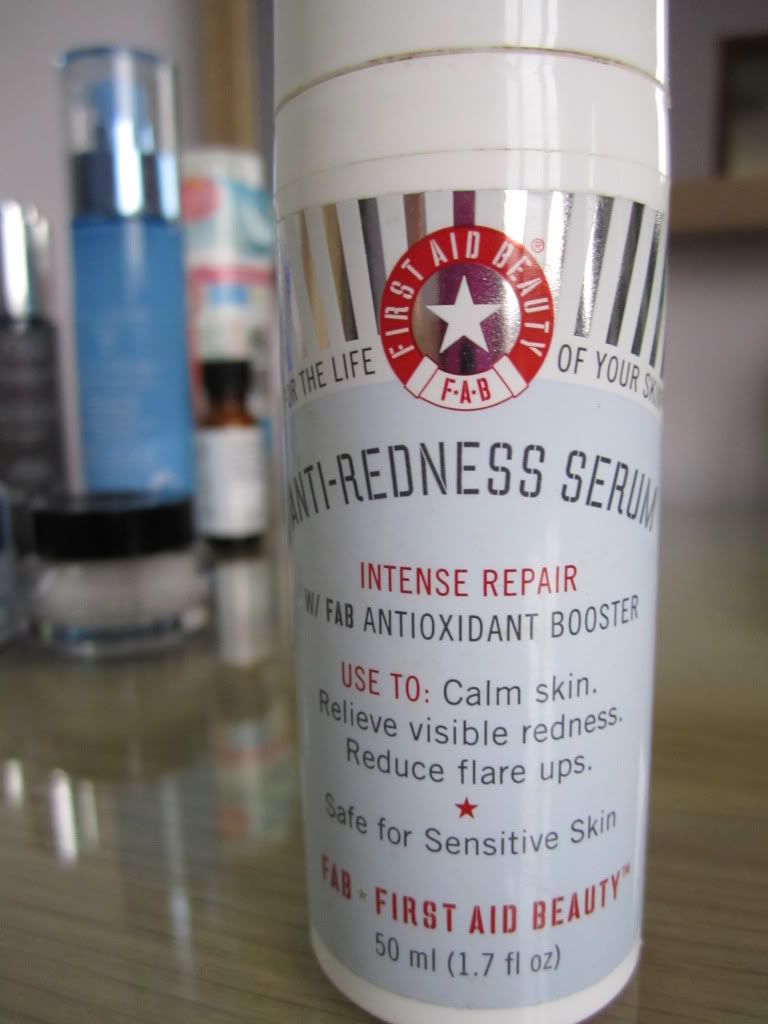 On cleansed face, first, I start off with Anti Redness Serum by FAB (First Aid Beauty) from Sephora.
It is a serum that is said to calms skin and reduce visible redness by shrinking blood vessels. Contains colloidal sulfur ,aloe, ginger and bisabolol which is anti inflammatory It is also an antioxidant booster but I am not so sure how true is that. :)
I do have mild rosaacea which has been more prominent this year hence my decision in getting this. (I blush really easily :( ! ) I get flare ups during the time of the month, or sometimes after eating shellfish like prawn/crabs/oysters. Have been using daily for a few months now and I find that this product really helps to keep my condition under control. Not sure if it is due to the product or a hormonal change. Be careful though, sometimes my skin does feel some burning sensation after application but only lasts for a like less than 2 minutes or something especially after I did a deep cleansing/scrub. Probably because of the ginger in it or either that I have ultra sensitive face. Product is fragrance free so don't expect a sweet or refreshing scent. It just smells of all the ingredients combined as I am not sure how to describe the smell. Definitely not unpleasant though, kind of medicinal, kind of plasticy but very mild.
Comes in an airless pump so it makes dispensing really easy and you can easily control the amount. I just use a little bit of the product since it is really more like a dense cream than a serum which I find a little hard to spread out so I kind of pat the stuff. This stuff is a bit pricey considering the amount.
Loreal Youth Code Pre-essence (39.90 SGD)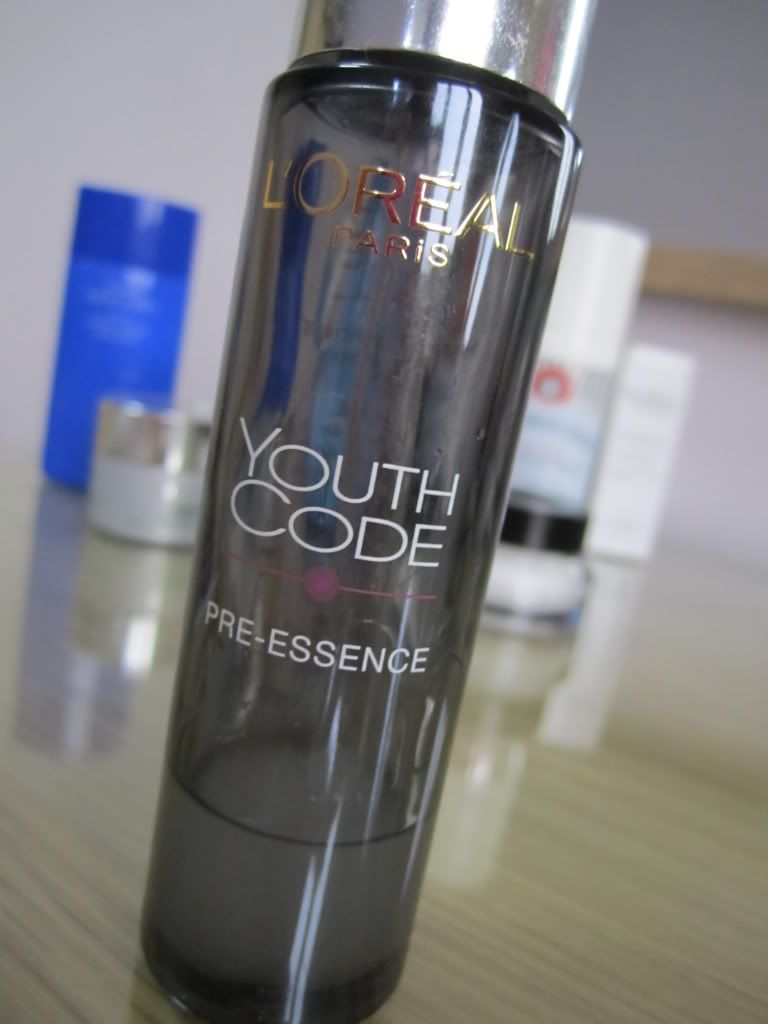 Next I use an anti aging serum - Youth code pre-essence bought from Wastons at 39.90 SGD. I love this and this is my fourth bottle! It really softens and smoothens the texture of my skin and hydrates it. Amazing. The Advanced Pro-Gen Technology is developed after 10 years of research and Youth Code is supposed to restore the genes and make your skin regenerate and recover 5 times faster! Doesn't it remind you of Lancome's genifique which is said to activate the skin genes? They are from the same mother company...so I kind of believe it is just the same stuff but marketed differently. :)
Anyway, not only Youth code hydrates and restores your skin's youthfulness, it actually boosts the effect of your subsequent skincare products, making them work harder for you! I only can only use one single product on my face, this would be the one.
Comes with a dropper which dispenses the liquid when you press the top.I use 2.5 full pumps though it is said few drops is sufficient because my skin is seriously addicted to this. The design of the applicator is now an improved version. In previous bottles I bought, it came differently. Now it is so much easier to use!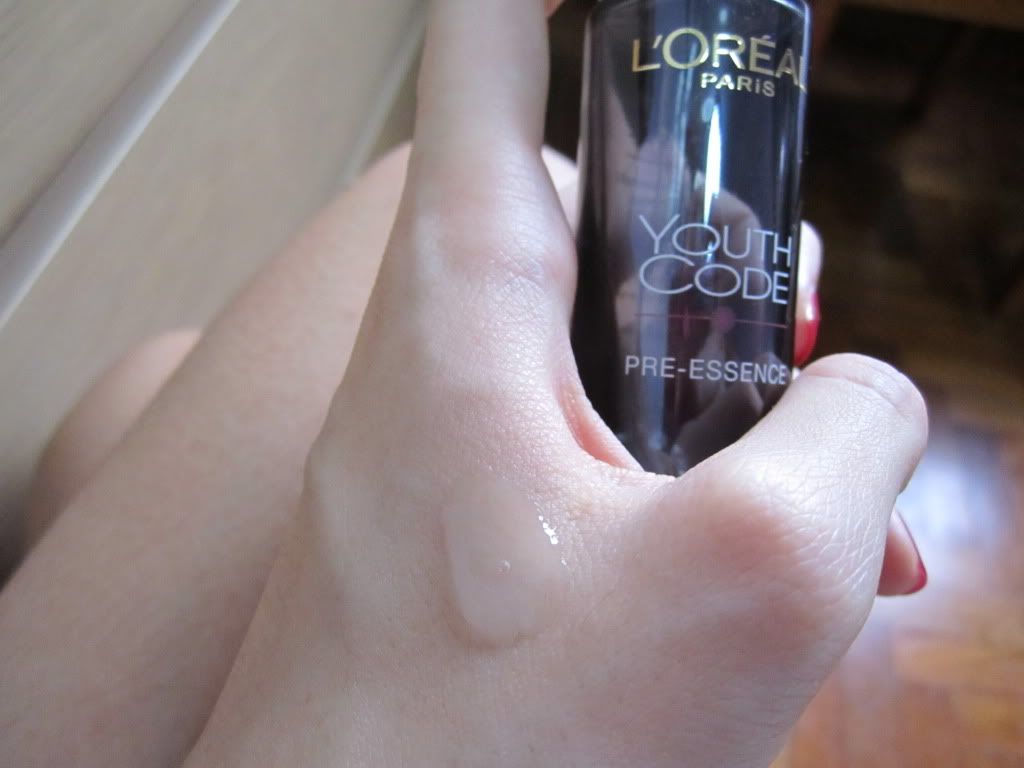 You can see the serum is transparent like, and the texture lightweight making it easy to spread on your face. My face instantly absorbs this stuff! Not oily or sticky at all. Also it has a refreshing pleasant scent to it. Perfect for my mornings.
Estee Lauder Advanced Night Repair (144 SGD)
Another anti aging serum that I want to recommend is Estee Lauder's Advanced Nighr repair serum - highly raved everywhere and hence my recent purchase.The patented Chronolux Technology not only fights future damage but repairs past damage due to environmental effects like UV light and pollution. Skin becomes younger, more radiant and softer. Also contains hyaluronic acid for added hydration.
This is definitely much more pricey than Youth Code which makes me think that it works better at anti-aging. :) I got this through a friend working at E.L and enjoyed staff discount!
This stuff is a little tacky on my face and smells a little strange and bitter. I really don't like the smell. It is towards the unpleasant side, but maybe it's just me. Anyway smell is like my last consideration of a product so I am okay with this. I use this at night and youth code in the morning currently since I do not want to strike youth code off my daily routine. I try to let it sit on my face to get it fully absorbed before moving to the next step since it is a little sticky. Well I could get used to it :)
Texture is thicker and less watery than youth code which explains why it is more sticky.
Application is easier than Youth Code - you just need to squeeze the top of the dropper rather than pressing some push button which feels cumbersome.
Other than it being a little sticky and stinky, this product is definitely magic in a bottle to keep those horrible wrinkles and age spots away. 94 % of Asian women feel that the skin looks more luminous and hydrated - this is stated on the website. Well so many women can't be wrong :) Please do not say I am gullible for believing some advertising statement as I put myself in the 94%. I stopped youth code and started using this for a few days and I can definitely feel the extra oomph it delivers. My skin texture is definetly more refined.
To all beauty queens out there, start using anti-aging product early! :) Its never too early to start, well maybe unless you are in your early teens...
Are you bored yet? But please read on, for I am going to show you the next step, which has given my skin so much radiance and glow!!
Tadah!
It is
Philosophy Turbo Booster C Powder! (50 SGD)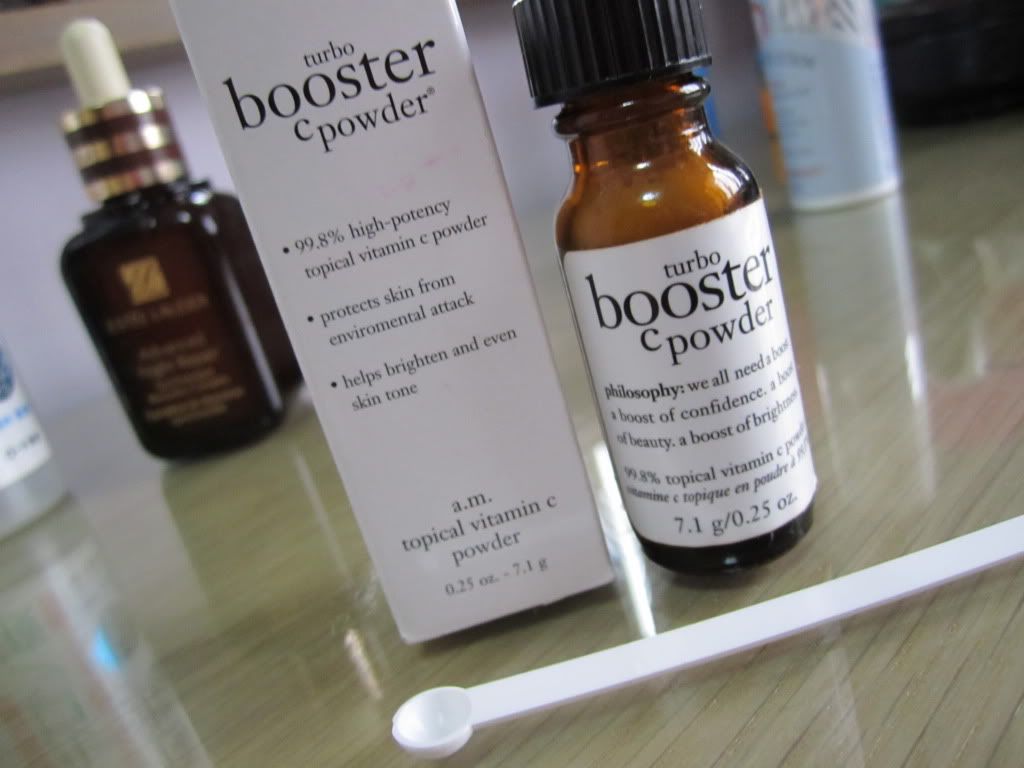 Vit C is scientifically proven to improve collagen synthesis. fights free radical damange as it is a powerful antioxidant and lightens hyperpigmentation.
At last something that 100% percent works!
Topical Vit C must be in a stable form and kept in a dark container as it oxidises/deteriorates
easily when exposed to light and moisture. If you are using vit C serum or cream, I recommend you to change to powder form where you can mix a fresh batch anytime. Pre made Vit C serums would have a shorter shelf life and more prone to oxidation, making the vit C ineffective.
Philosophy uses L-ascorbic acid which is the most potent and stable form of Vit C! It also has a low pH which is necessary to get past your skin barrier.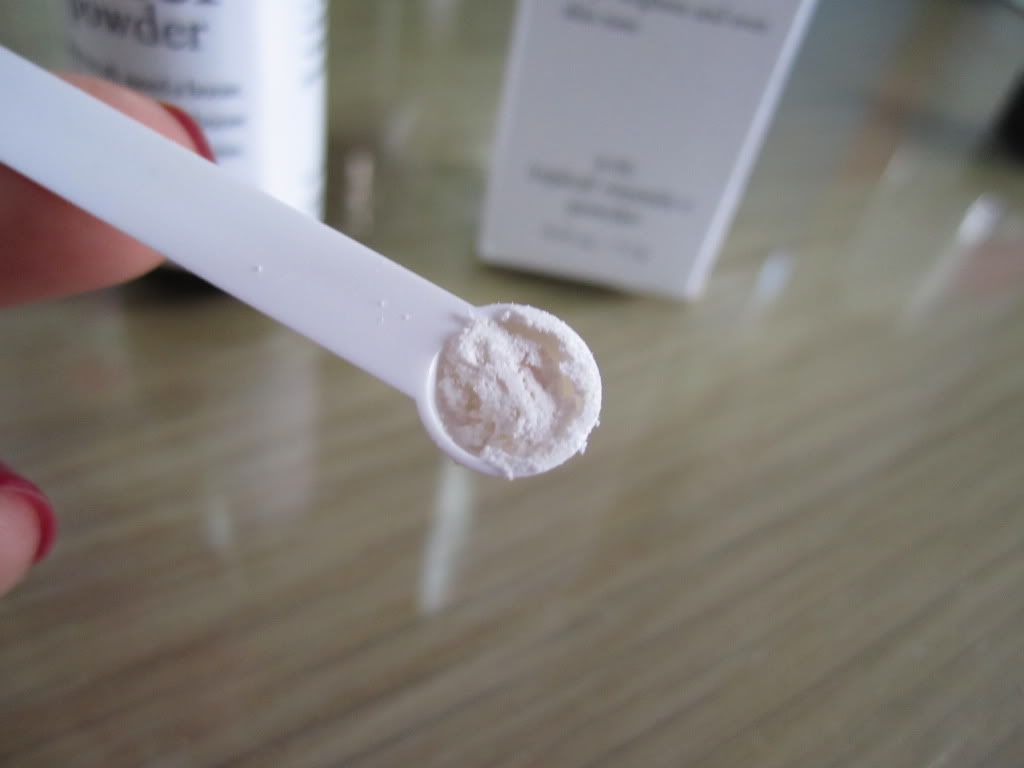 Comes in a little spatula which you can use to scoop out the powder. 1/2 -1 scoop is recommended.
Vit C does cause some biting sensation in your skin so start with 1/2 scoop first then slowly increase the dosage overtime. The tingling/sting is a small price to pay for the glowing and brightening effect!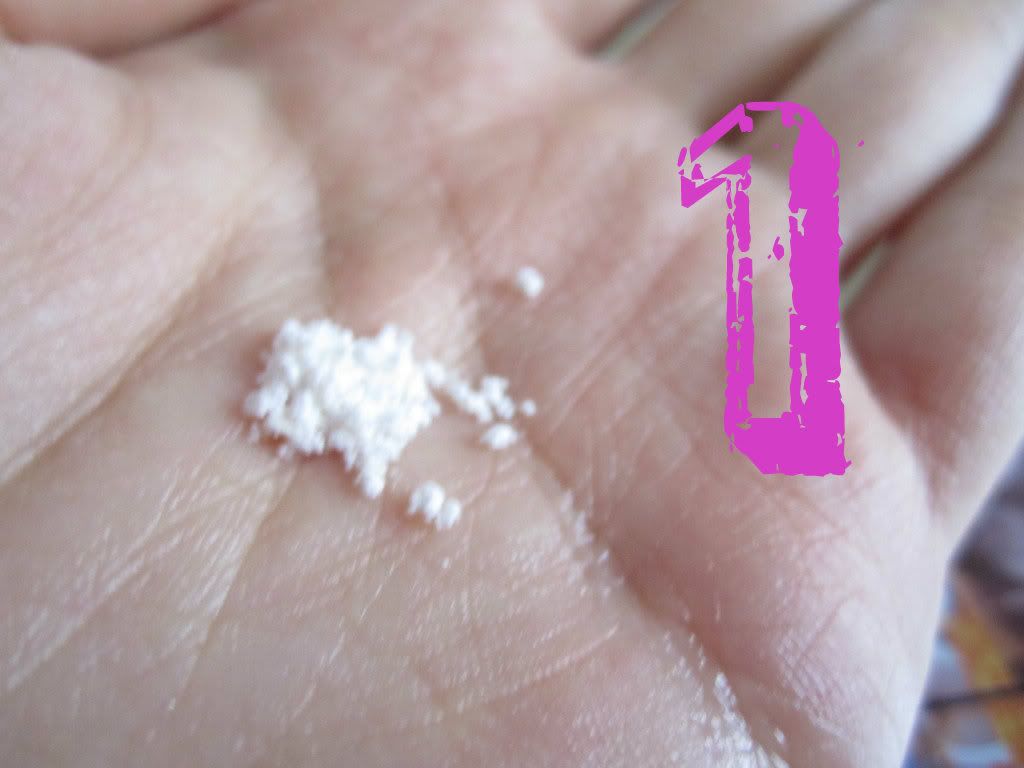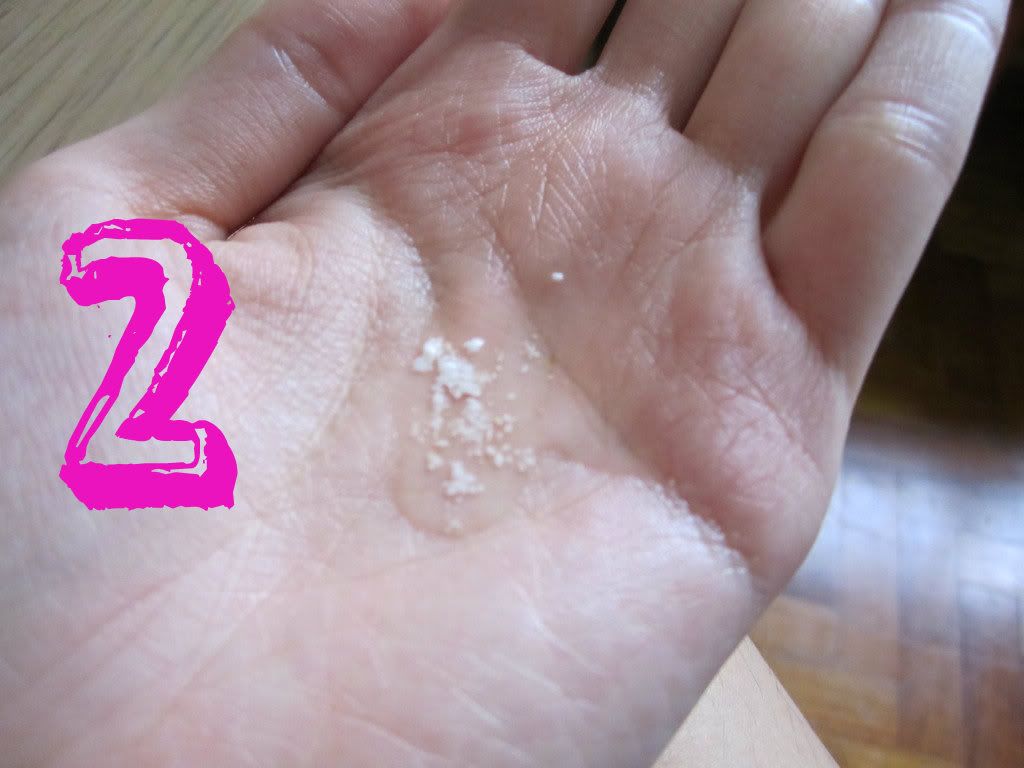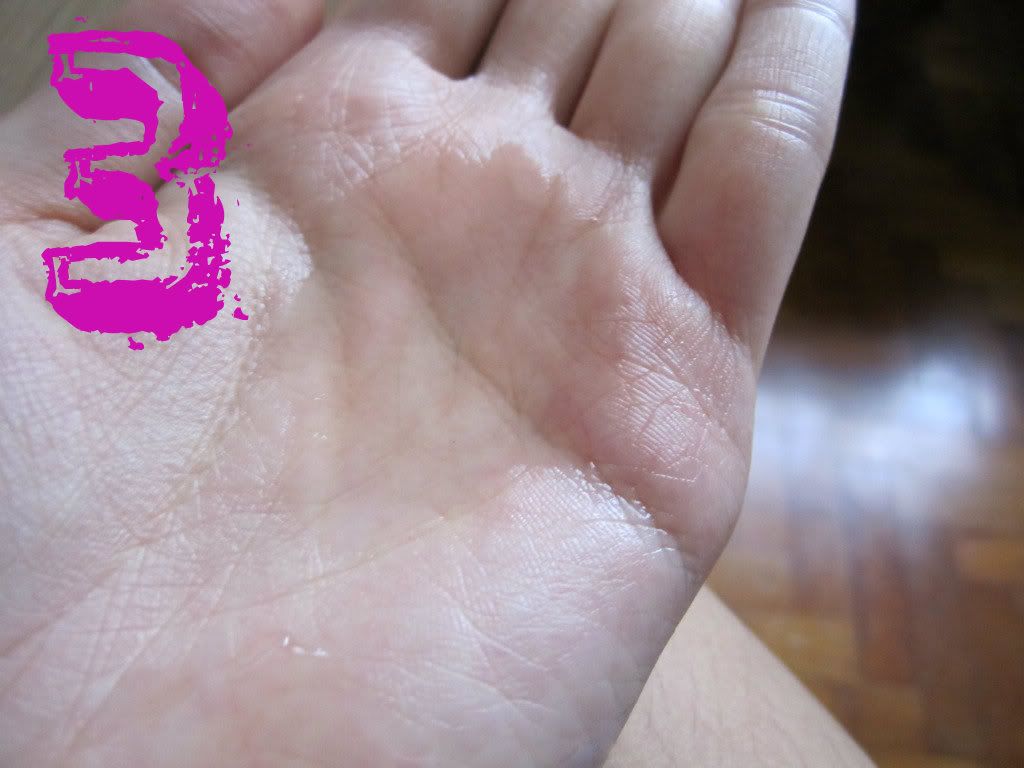 How lovely it is - simple to introduce to any skincare regime. Just add to any of your moisturiser or serum!
I just put the powder on my palm, pour some Hada Labo Super Nano Hada Labo Hyaluronic Acid lotion onto it, and mix it with my finger from the other hand and it dissolves nicely.
After that I rub and pat onto face.
The effect of this product on me is almost instant. My face is glowing so prettily my colleagues are all asking about it the next day :)
Hada Labo Super Nano Hyaluronic Acid lotion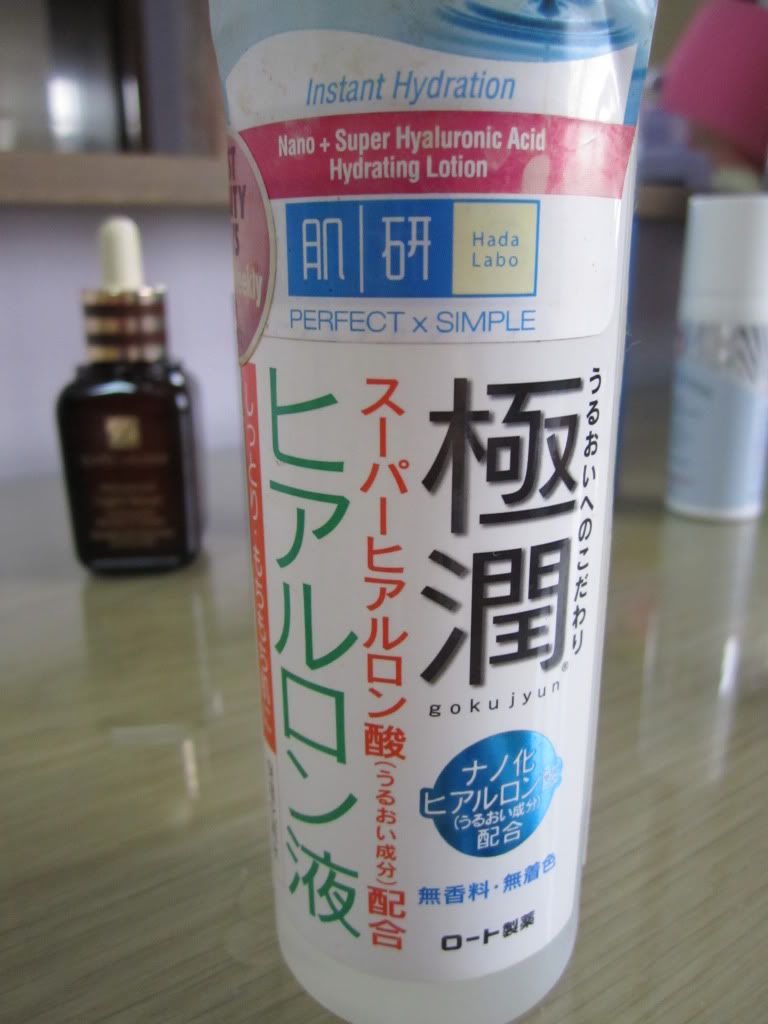 Another fav product - Super Hyaluronic Acid forms a locking shield to retain essential of moisture of the skin - 1 gm of it holds up to 6 litres of water! This lotion contains super and nano hyaluronic acid for maximum hydration. I am sure you have heard of their slogan : one drop locks up the ocean. This stuff keeps my skin supple and plump up all day! My skin just loves to drink it up!
It is like a viscous gel-like liquid and feels so smooth over my skin. If I feel my face is a bit dry, I apply another time of it after using it with the Vit C. I like to use patting motion to apply this as after a while I am able to feel the ''bouncy'' and ''qq'' effect on the skin.
I love Hada Labo because their products are free of fragances, mineral oil, alcohol and colorant, perfect for my sensitive skin.
Notice I don't use toner as my face is sensitive and hence is easily irritated by the alcohol content. Japanese actually use the 'lotion'' instead of the toner step. Many japanese skincare lines carry lotion but not toner.
Shu Uemura Depsea Hydrability Moisturizing Emulsion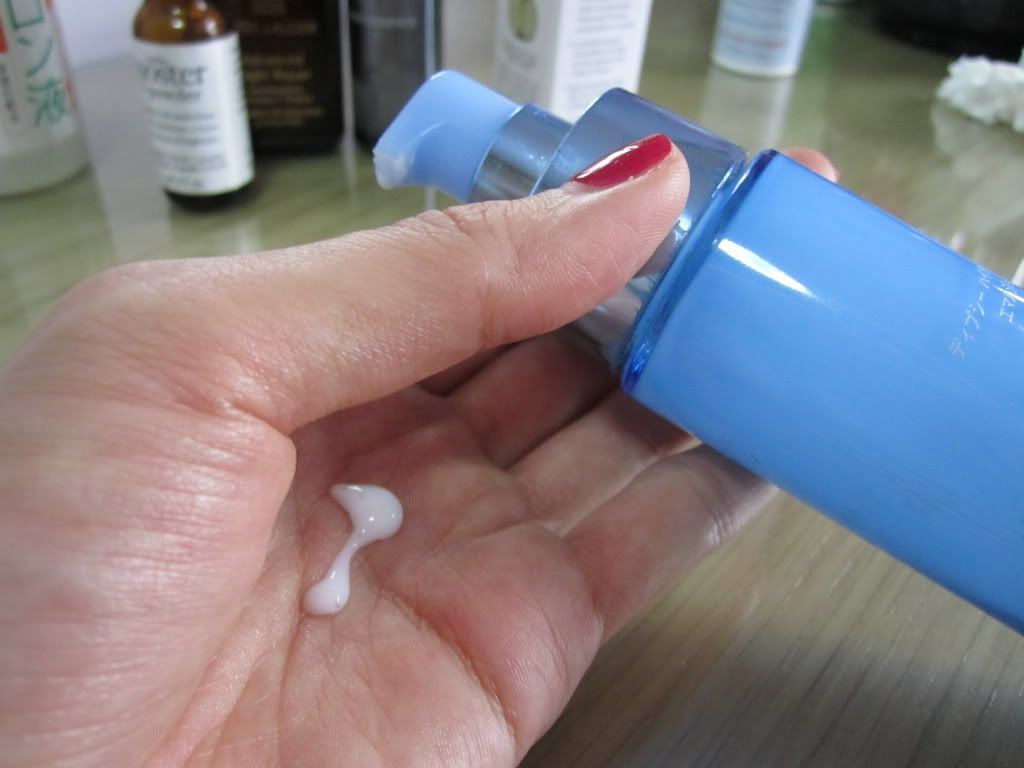 Texture is very lightweight , watery ,soft just like what an emulsion should be, not as thick as a cream.
Pump makes application hygienic. One pump gets a lot out, so I use half a pump.I apply this mostly on my forehead because I am afraid of the expression lines on them and I want to ease them out with more moisture.
My skin is able to absorb this stuff readily but I find that if I do put too much of it (> 1/2 pump) my face feels like there is something sitting on it which is quite something quite unpleasant, just makes me want to wash it off or something. So don't apply too much!
This is probaby my least favorite product out of the lot since if I over apply I get the ''oily'' feeling and if you ask me I would say get a cheaper moisturiser:)
And I am not done yet! Can't forget about the windows of the soul - the eyes! My eye area is really thin and dry and prone to fine lines so eye cream is a MUST.
Bobbi Brown Hydrating Eye Cream (62 SGD)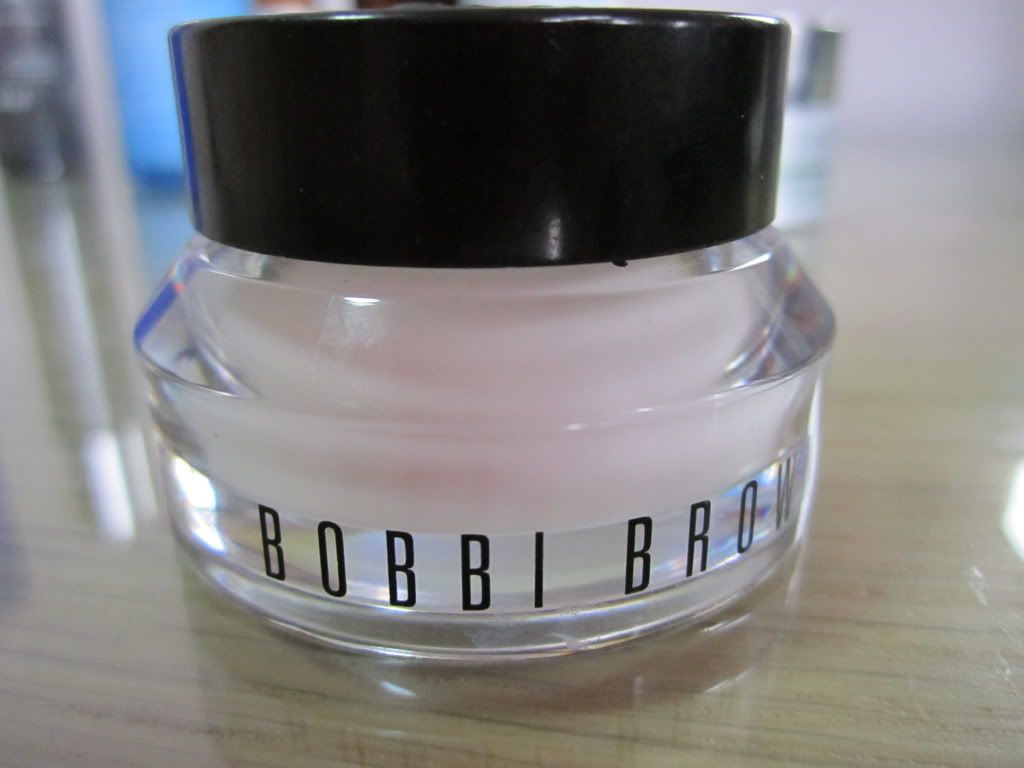 I use this in the morning. Contains Aloe Vera, whitch hazel extract, Jojoba Seed, Avocado oil works together to keep the eye area soft, smooth and refreshed.
I find that my concealer glides on really smoothly after it.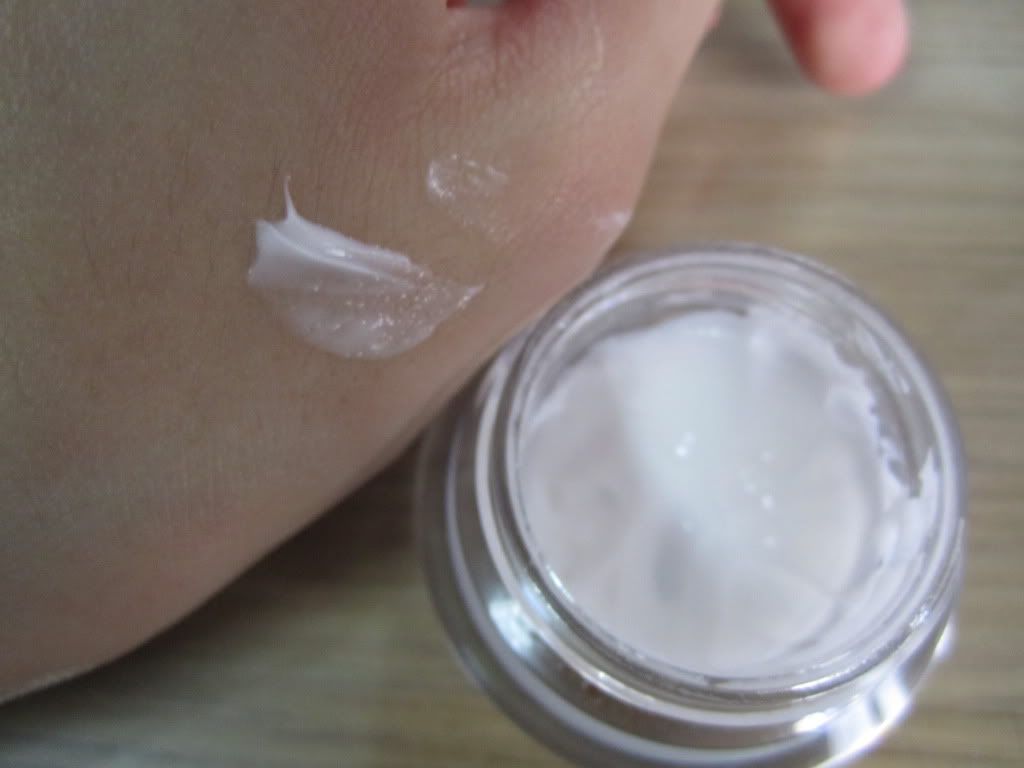 Texture is really lightweight and my skin absorbs it easily, which is important for me so I can move on to concealer. Best eyecream I have used so far! I do feel that my eye area is nicely hydrated and moisture is replenished with each application.
This is not oily or heavy at all so if you are afraid of milia seeds this is a good option!
However if you are looking for something that addresses dark eye circle, this might not be for you.
Clinque Repairwear Intensive Eyecream (70 SGD)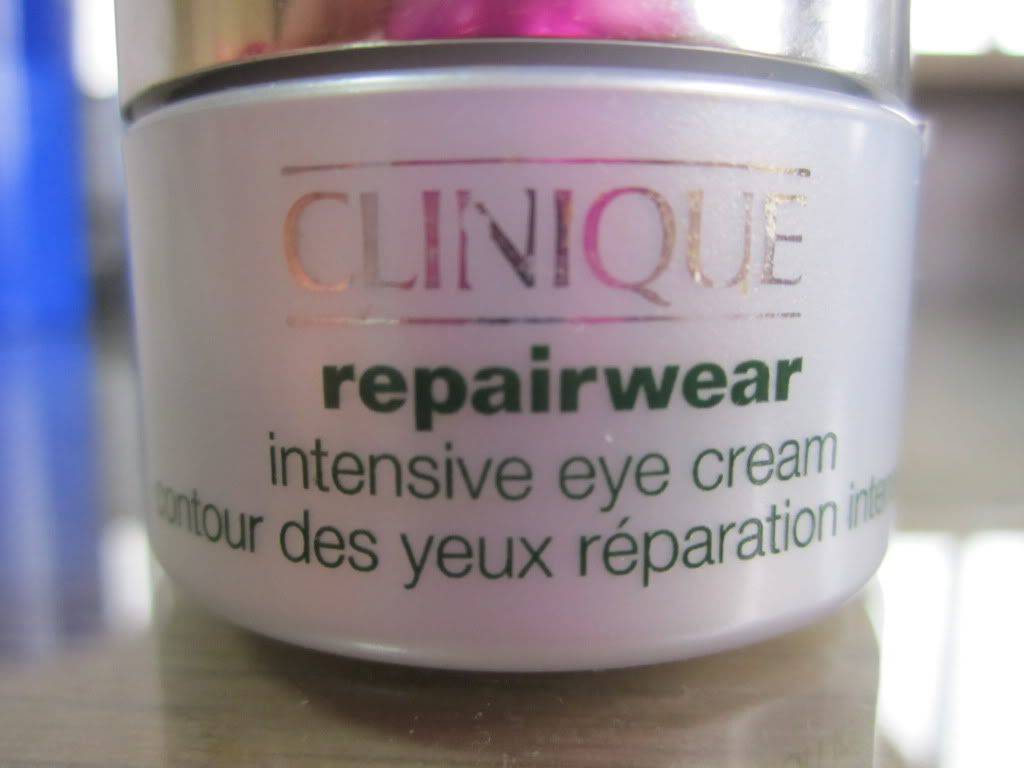 For nighttime, I use something more potent for anti-aging effect.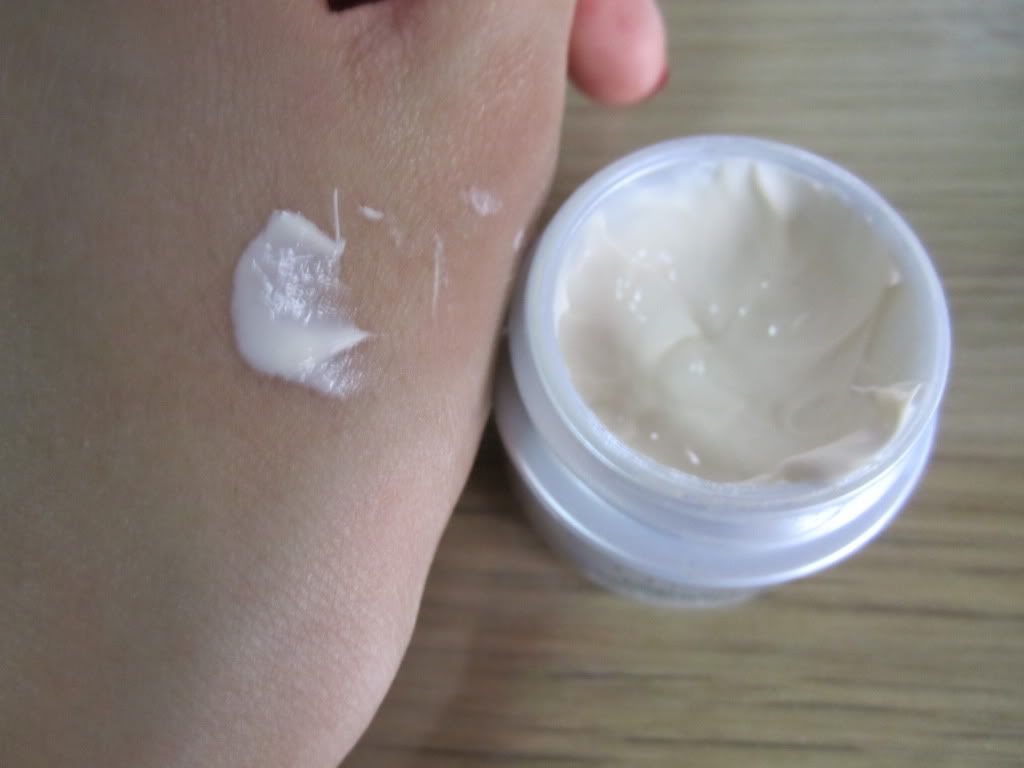 As you can see texture is definitely heavier and thicker than bobbi brown's hydrating eye cream. I like the thick texture as it is able to form a protective shield on my vulnerable eye area.I do feel a visible difference in appearance of my eye area after daily usage of this. My fine lines around the eyes are less deep set now.
Last but not least! Beauty queens, protect your face! Prevention is definitely better than cure! You all know what I am talking about... sunblock!
Shiseido AquaLabel White Protect Milk UV SPF 30 PA++
Sometimes I do forget sunblock in the rush of mornings and I really hate myself for that. :P . If you are mostly indoor, you still need sunblock because you still get UV radiation from the sunlight through the windows, fluorescent lighting and of course your computer screens (small amounts)!
Exposure to the sun is harmful! It causes freckles, dark spots, and collagen breakdown resulting in wrinkles. That is why I wear shades or carry an umbrella if I need to walk in the sun, even if it is just a short while.
I really like this sunblock as it feels good on my face, not oily or sticky and I feel really freshened up. Some sunblocks stink, but this has a fresh pleasant scent to it. Plus it is not expensive and readily available in Wastons. I definitely don't believe in paying for sunblocks from luxury brands, well unless you are looking for a 3-in-1 kind of product.
And yes, hope you are not dozing off by now, it's me signing off..
-XOXO
EL