Hello beauty queens!
Today I am going to review the REVLON Just Bitten Kissable Lip Balm which has been highly raved. After hearing so much about them, I was like OMG I MUST GET THEM!
I got mine from drugstore.com and I have to say ... these are TRULY AMAZING.
Moisturises
- checked. No lip balm needed before applying. It glides on super smoothly.
Doesn't dry out lips and make lip lines show
- checked. Note that most long lasting lipsticks dry out lips quickly!
Long lasting
- DOUBLE checked - this stuff are like permanent. I wake up with lips that are still pink because it was too hard to scrub off completely even with makeup remover.
Gives you control over colour strength and vibrancy
- Checked - If you want bolder lips, just layer up!
These lip balms are kinda similar to clinique chubby sticks but they really stain your lips in addition to hydrating them!
Cons? I would say colour somewhat changes on your lips after a while and I guess the colour change depends on individuals. Perhaps it's like a balm which kind of infuses into your lips rather than lipsticks and glosses that simply sit on top of your lips.
These are the colours I got! I am a SUCKER for PINK! Especially bright pinks as they give me a nice pop of color to my face and I can do away with the blusher without looking pale. I do not like anything on my face besides lip/eye pdts for my everyday makeup!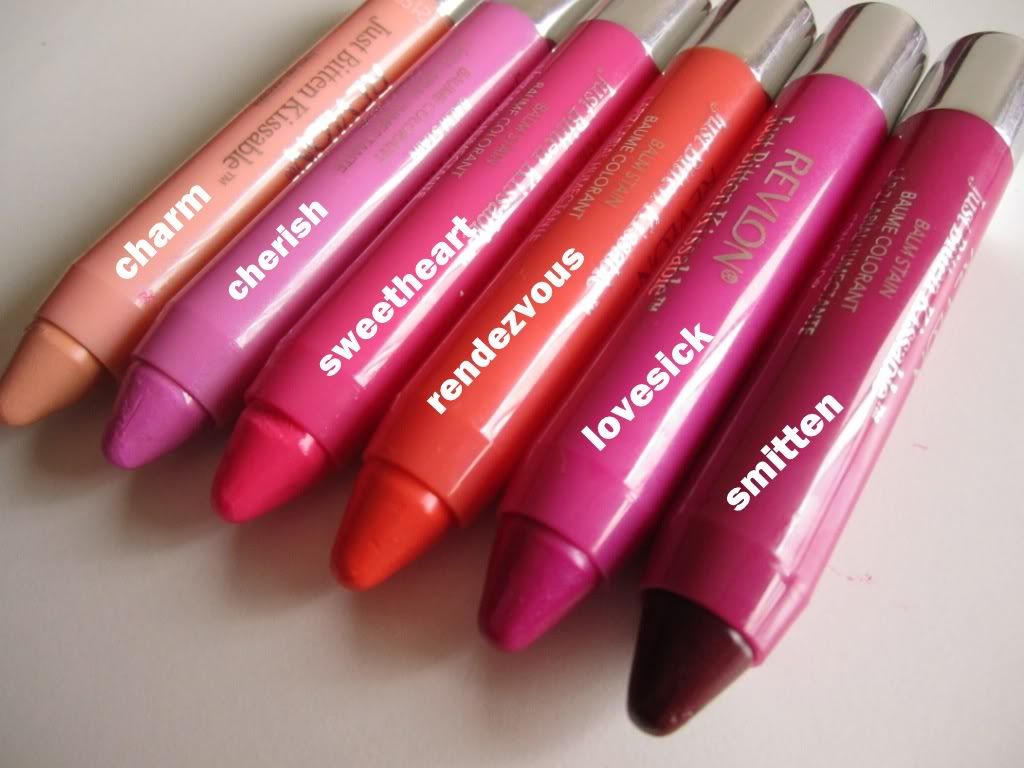 Swatches - with camera flash

No flash - under sunlight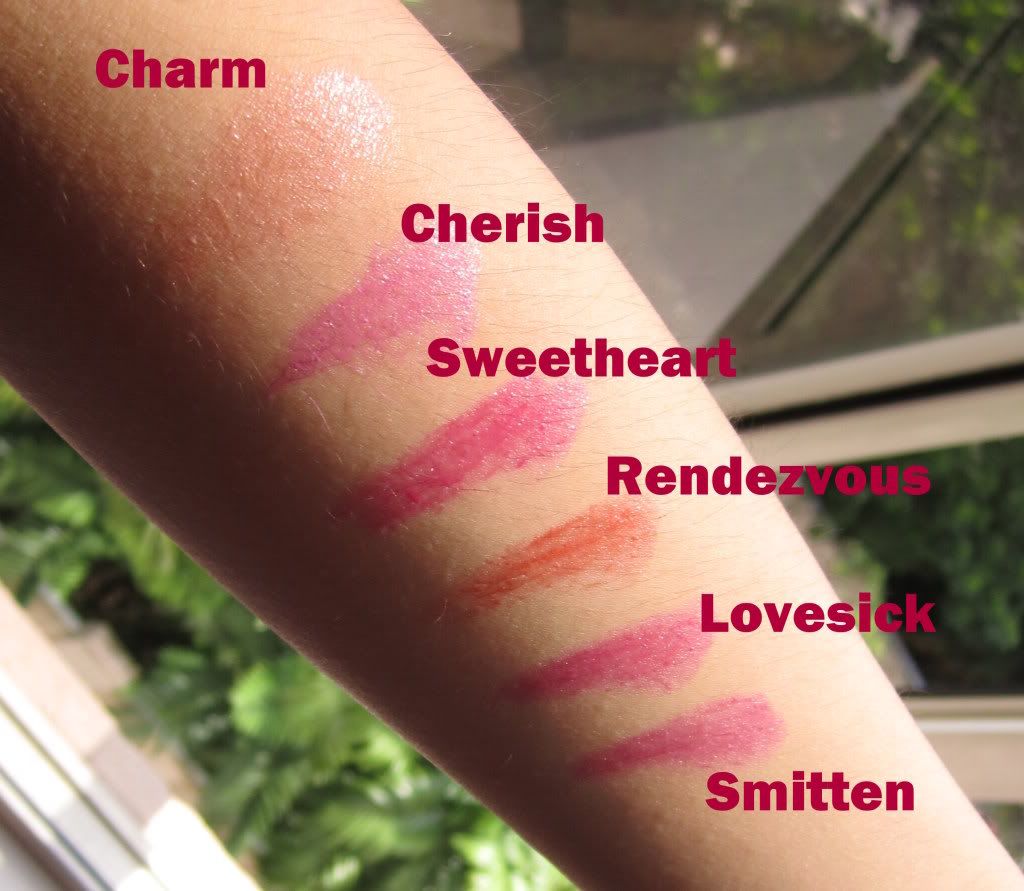 On my lips - all pictures taken under white light with camera flash:
You can see from the below pictures that they are already really glossy on their own! With lipgloss over them, your lips will look so plump and oh-so-sexy.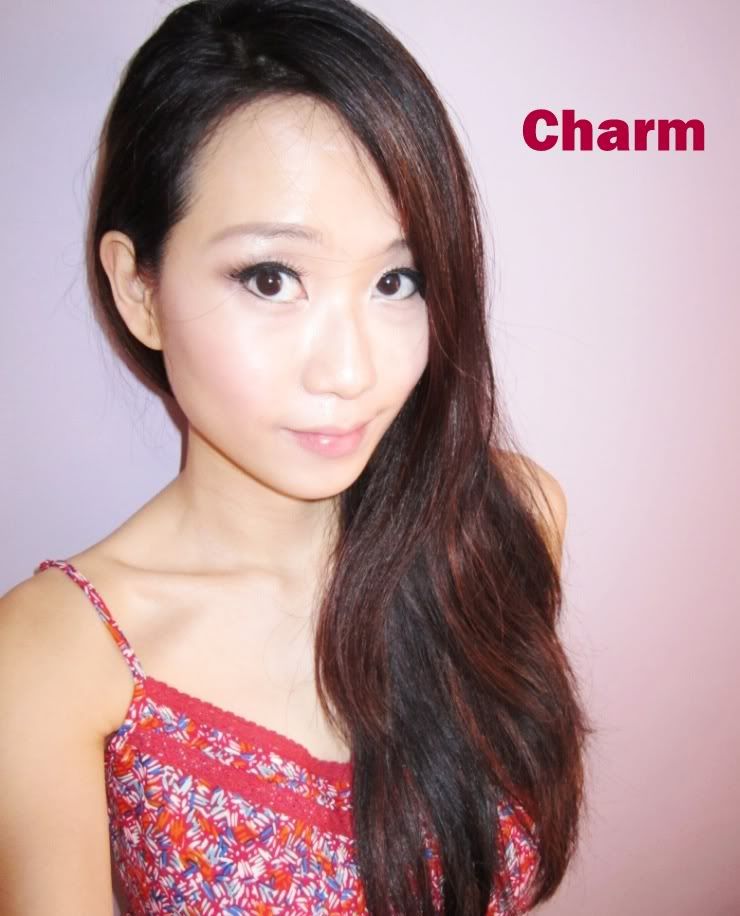 Charm is so pretty! My original lip colour is quite rosy so Charm lightens it and gives them a glossy nude look.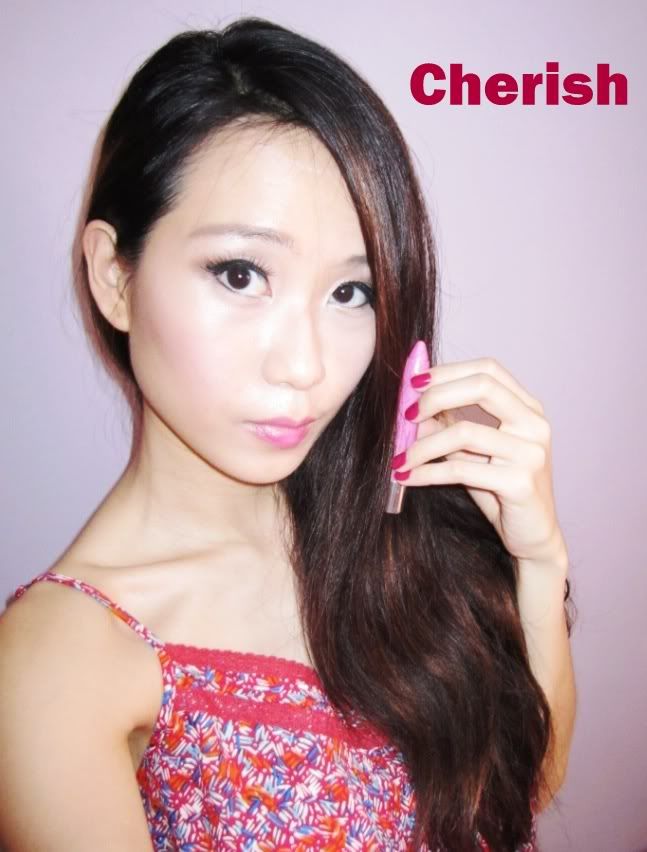 I would describe Cherish as a Candy floss pink. I had to layer this to get the opacity I want.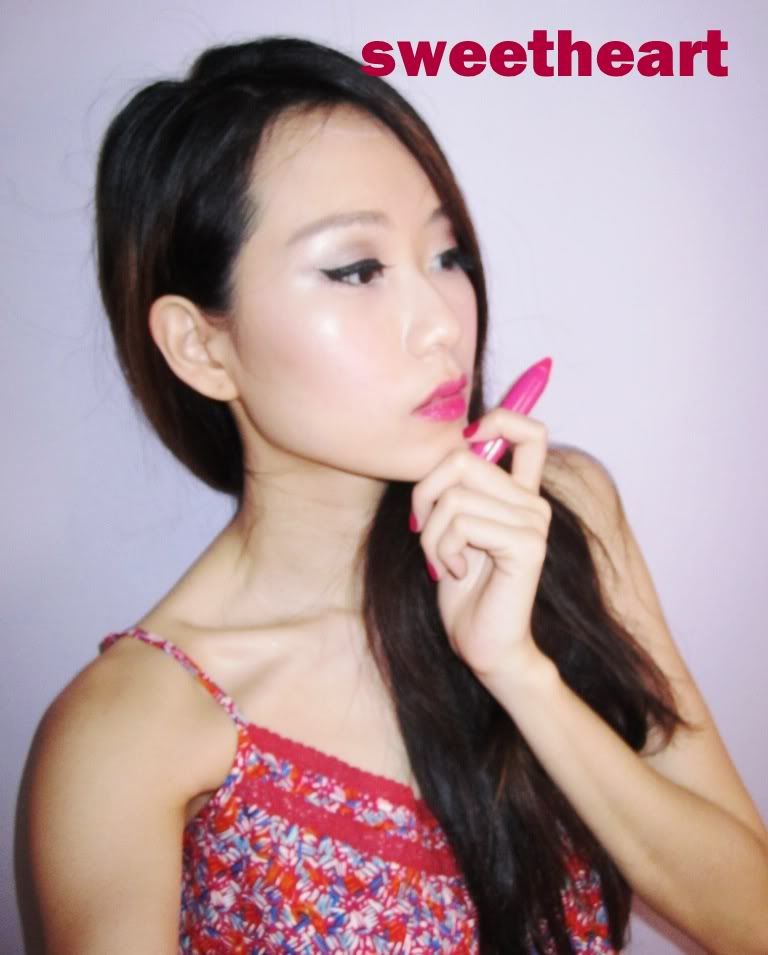 Sweetheart is a HOT pink This colour is so fun to wear!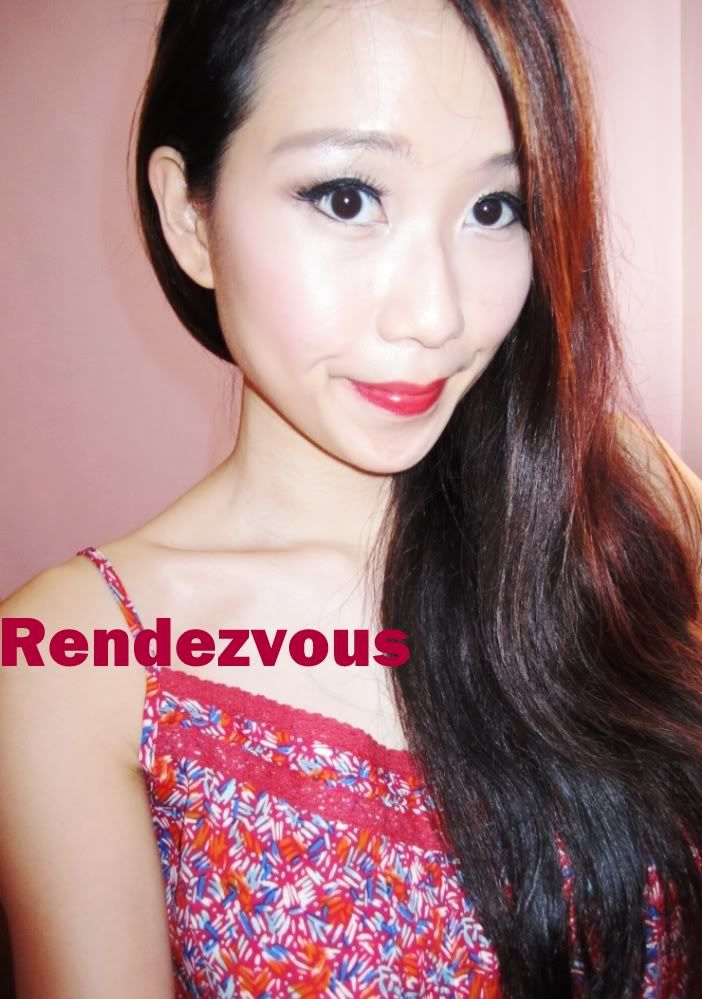 Rendezvous is orange but it kinda looks like orangey red on my lips. I wanted to get Romantic - the red one but drugstore ran out of it :(
Sorry I had to smile pursing my lips because the flash is picking up the inside of my lips which is not coloured..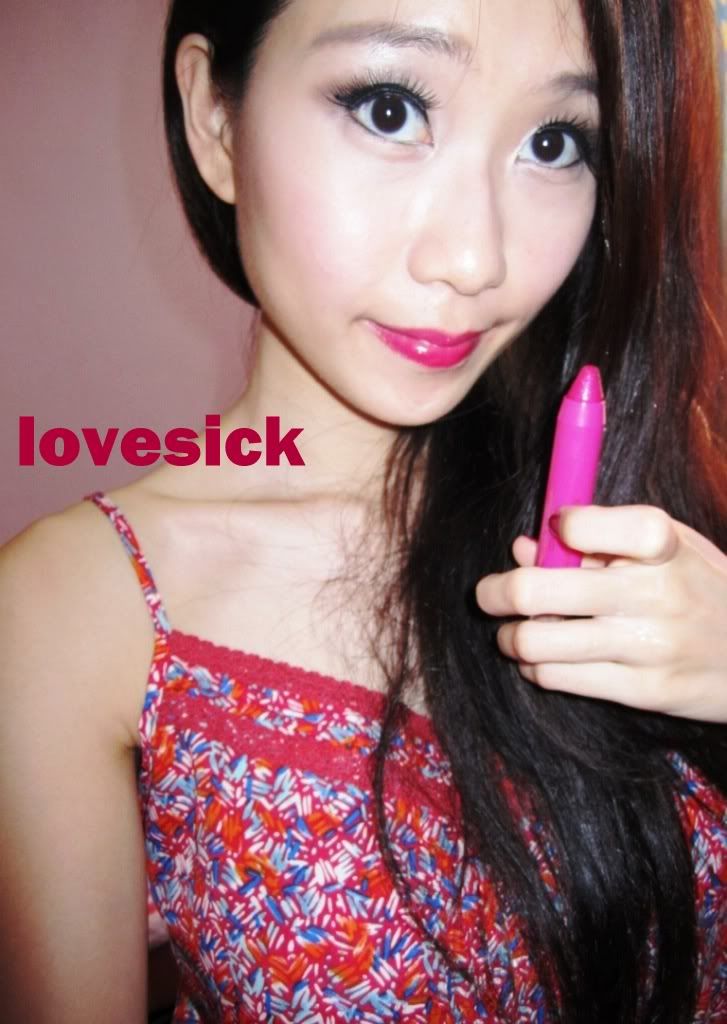 Lovesick is my FAV colour.It is like a raspberry pink and a true fuschia which I absolutely love. It is not as outlandish pink as sweetheart (which is a little weird) nor as berry as Smitten so it is great colour for work and it really complements my skin tone.
I would say the colour sits in between sweetheart and smitten. If you are wondering which of the bright pinks to get, get lovesick!
Also I find that colour of lovesick doesn't change and stay true to me :)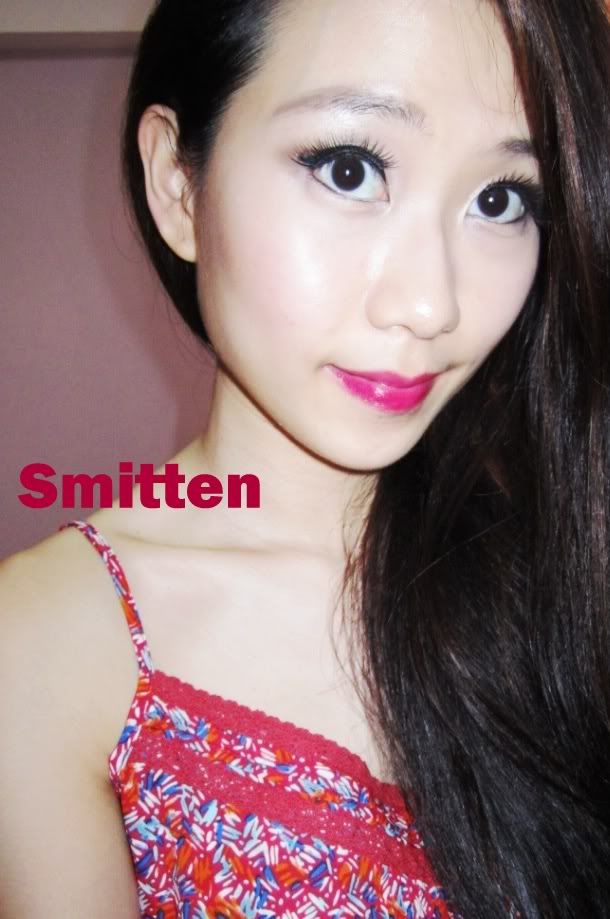 Smitten doesn't look like the colour on the crayon, which is a good thing. The deep purple on the crayon makes it look like it is for Halloween or something. Smitten is even bolder than lovesick and it has more of a berry tinge to it. It would be my night time lip colour. Both of them are really similar but I think lovesick is something more wearable and the colour of lovesick stays more true throughout on the lips.
Here is another picture with me wearing Smitten. Flash is again capturing the really insides and corners of my lips which I don't color.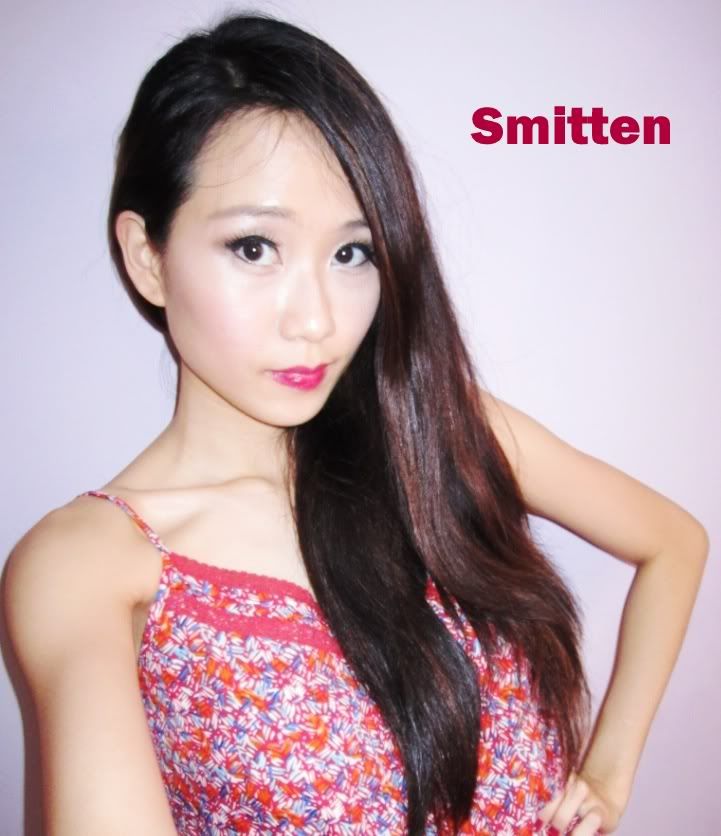 Have you gotten your hands on the Revlon Just Bitten Kissable Lip Balms yet?
Hesitate no more because I assure you won't regret your buy! :D It is not available in SG yet but I assume it would be soon since they have just been released in Hong Kong not long ago. Or you can get them from drugstore.com and ship to SG via vpost! My vpost review and experience is described in the post below :)
Below are more pictures of these great stuff on my lips! (from my instagram stash taken with iphone)
With Lovesick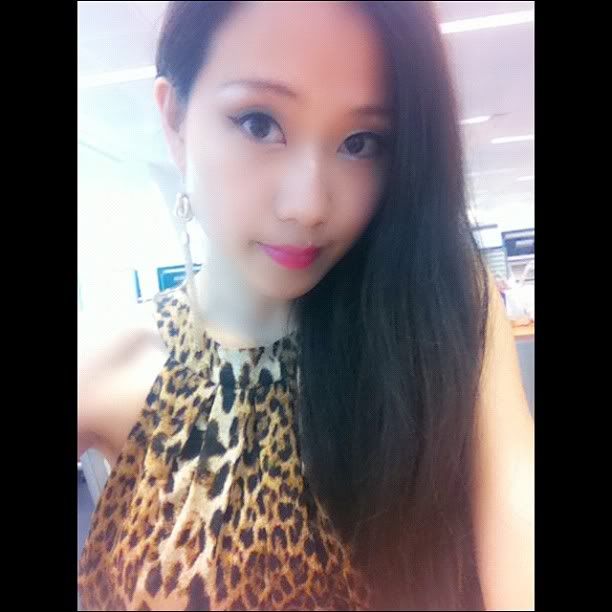 Lovesick again!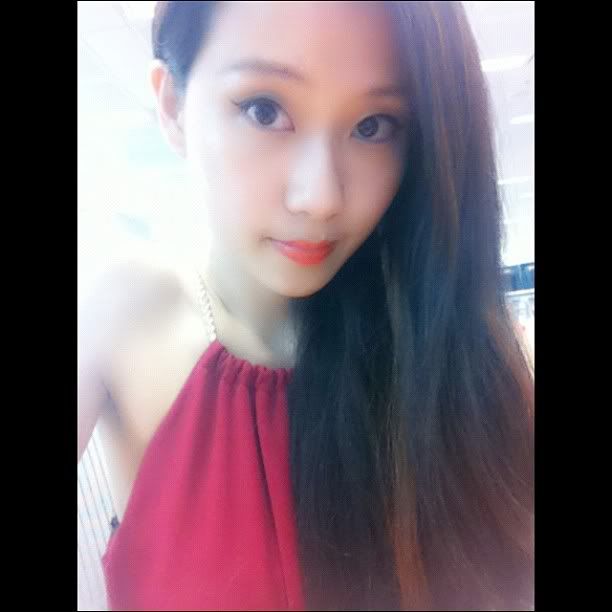 Rendezvous loses it orange colour after a while on me.. so it becomes more of a orangey red.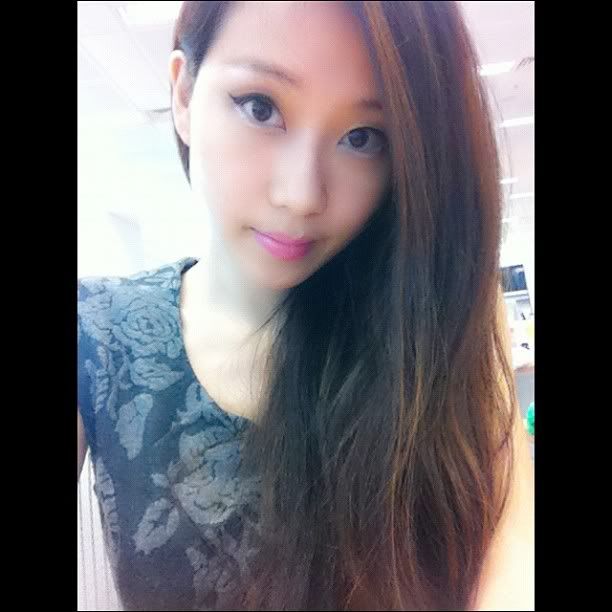 Colour of cherish - candy floss pink doesn't stay true for long though! It kind of fades away to a reddish pink colour and I find that I have to reapply again to get the same colour again. Looking like nicki minaj here. :P
In case you are wondering what I use on the rest of my face, I will share my everyday makeup pdts in another post! stay tuned!
Signing off
XOXO
EL