Hi Beauty Queens
Today I am going to share with you 2 of my recent purchases.
1) NARS Larger than Life Lipgloss in Place Vendome
I love this baby. It probably has the most perfect formula. It is a raspberry red-pink colour which is vivid and opaque enough to use on its own without any lipstick. (not many lipgloss can do that!) It is not sticky so don't worry about your hair strands getting stuck in it. It glides on my lips pretty smoothly and my lips feel soft afterwards so it is not drying at all. I really like how it feels on my lips. Most lipgloss gives me the feeling that I have like a layer of gunk over my lips, but not this one!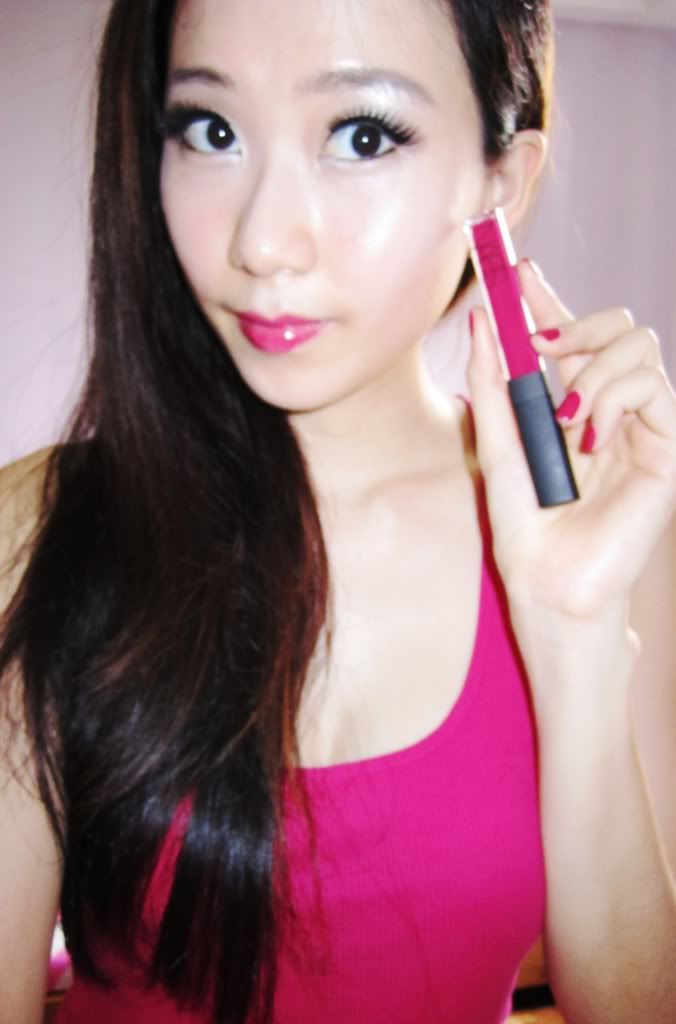 I love this raspberry shades as they gives me a nice pop of colour! I am not even wearing any blusher in this photo.
Here is the swatch in sunlight:
You can layer up to get a darker shade! Above photo is taken indoors without flash.
One thing I don't like about this lipgloss is defintely the applicator.
Look!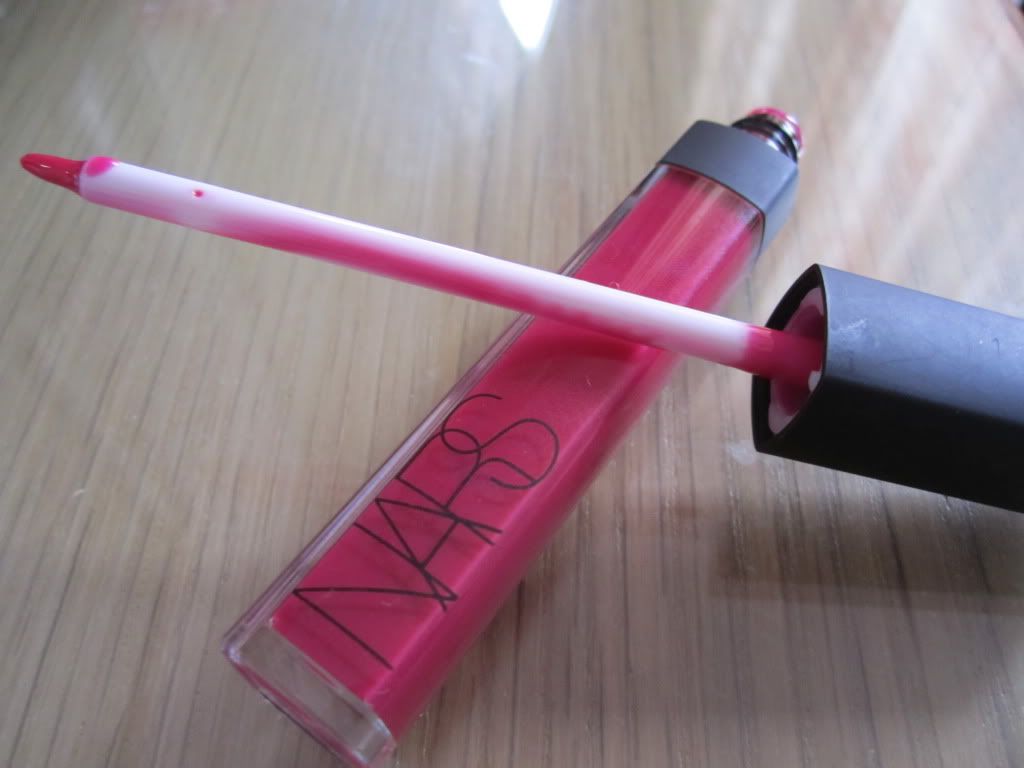 It is the thinnest and smallest lipgloss applicator I have seen. Almost like an eyeliner brush lol.
I guess it does give precision which I only appreciate when I really do have time to outline my lips with it first. Also with such a small brush my lipgloss becomes kind of streaky :(
Retails at 26 USD at NARS Website or Sephora website. I got this from Sephora online via vpost.
2) Dior 5-Colour Eyeshadow in Grège 734
This is my 2nd dior eyeshadow palette. I love eyeshadow plaettes that comes in 4-5 colours and are handy enough to put in my handbag. First of all, they will be small enough to carry around and secondly, I do not have to bother to choose what colours to use on that day(imagine if you have 10 colours in one plaette..), just use all and you can't go wrong since the colours are put together by deisgners! And the packaging is so pretty :P
Neutral colours are my staple. I use them for all occasions, work, going out, parties etc etc :D
Swatch: Anyway this quint comes in a satin camel brown, a white shimmer, a pale lilac (middle colour), a iridescent grey metal colour, and lastly a satin plum brownish colour.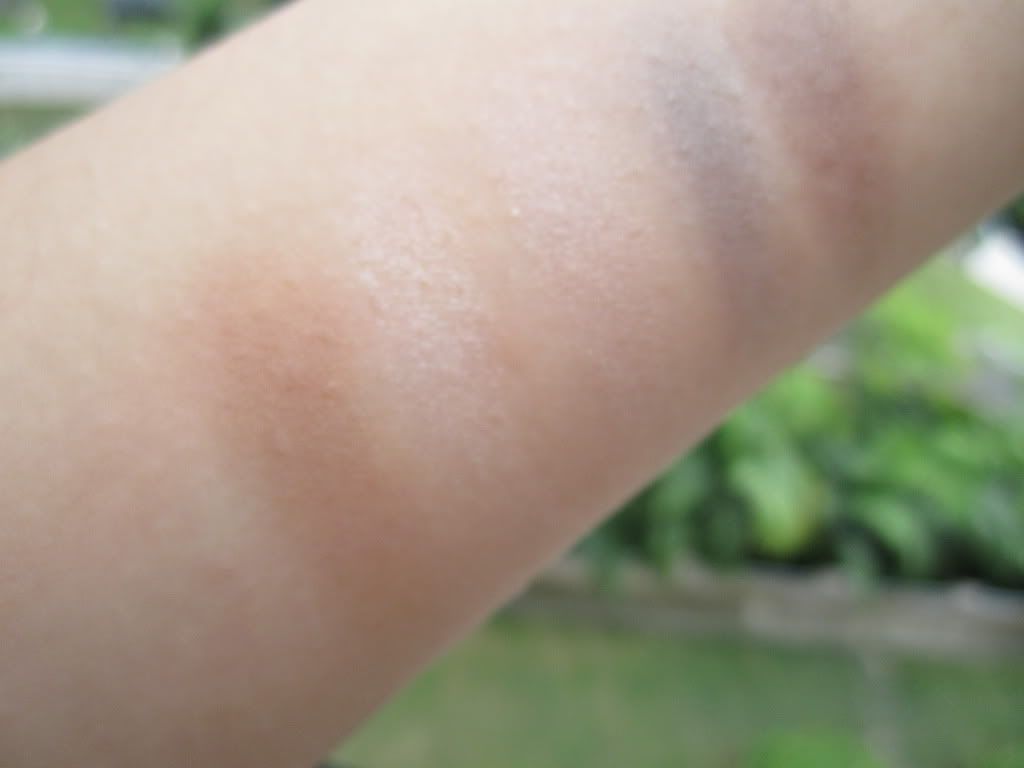 These shadows are very high quality and they last throughout the day even without primer. No fallouts.
They are really smooth and easy to blend, although they really aren't that pigmented. I guess the colours are not dark in the first place.
How it looks on my eyes:
First I started out with white shimmer to highlight my brow bones and inner corners of the eyes, then camel brown all over the lids for a neutral wash of colour, then grey metal on outver v, darkest plum shade to cut the crease, and finallly the lilac on the centre of the lids for more 3-D effect.
This eyeshadow quint is so easy to use. The colours blend nicely with each other to create a polished look. 59 USD from Sephora website or 98 SGD in stores like sephora, tangs, dsf in SG.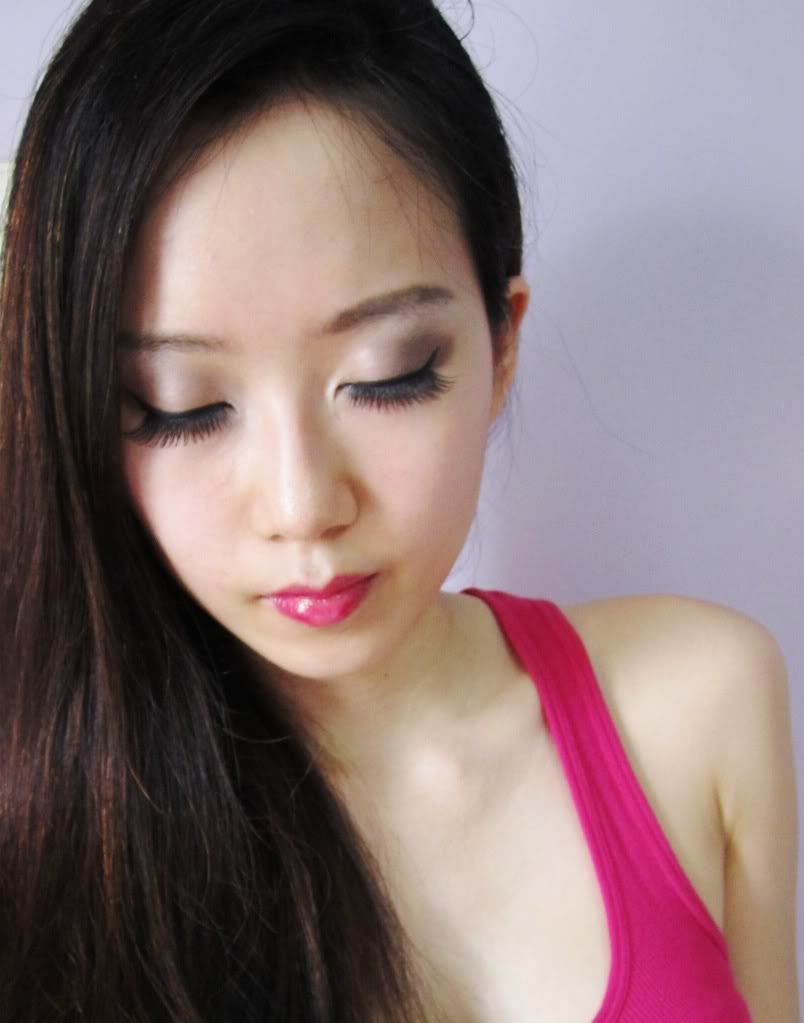 So yes, there you have it, two pdts to create an everyday makeup look that I have been wearing. :)
Signing off
-XOXO
EL